Need help? If you are in immediate danger, please call Triple Zero (000)
Domestic and family violence occurs when someone who has a close personal relationship with you makes you feel afraid, powerless or unsafe. It can be physical, but can also be emotional and psychological. Anyone can experience domestic and family violence. It happens across communities, ages, cultures and genders. Women are almost three times more likely than men to have experienced violence by a partner since the age of 15 (ABS, 2017).
Domestic violence takes many forms aiming to control, intimidate, terrify or coerce another person. It includes physical, sexual, verbal, psychological, mental, and emotional abuse. Also stalking, harassment, financial abuse and manipulation, denial of freedom or choice and control of access to family and friends. Council is committed to addressing domestic and family violence in our community.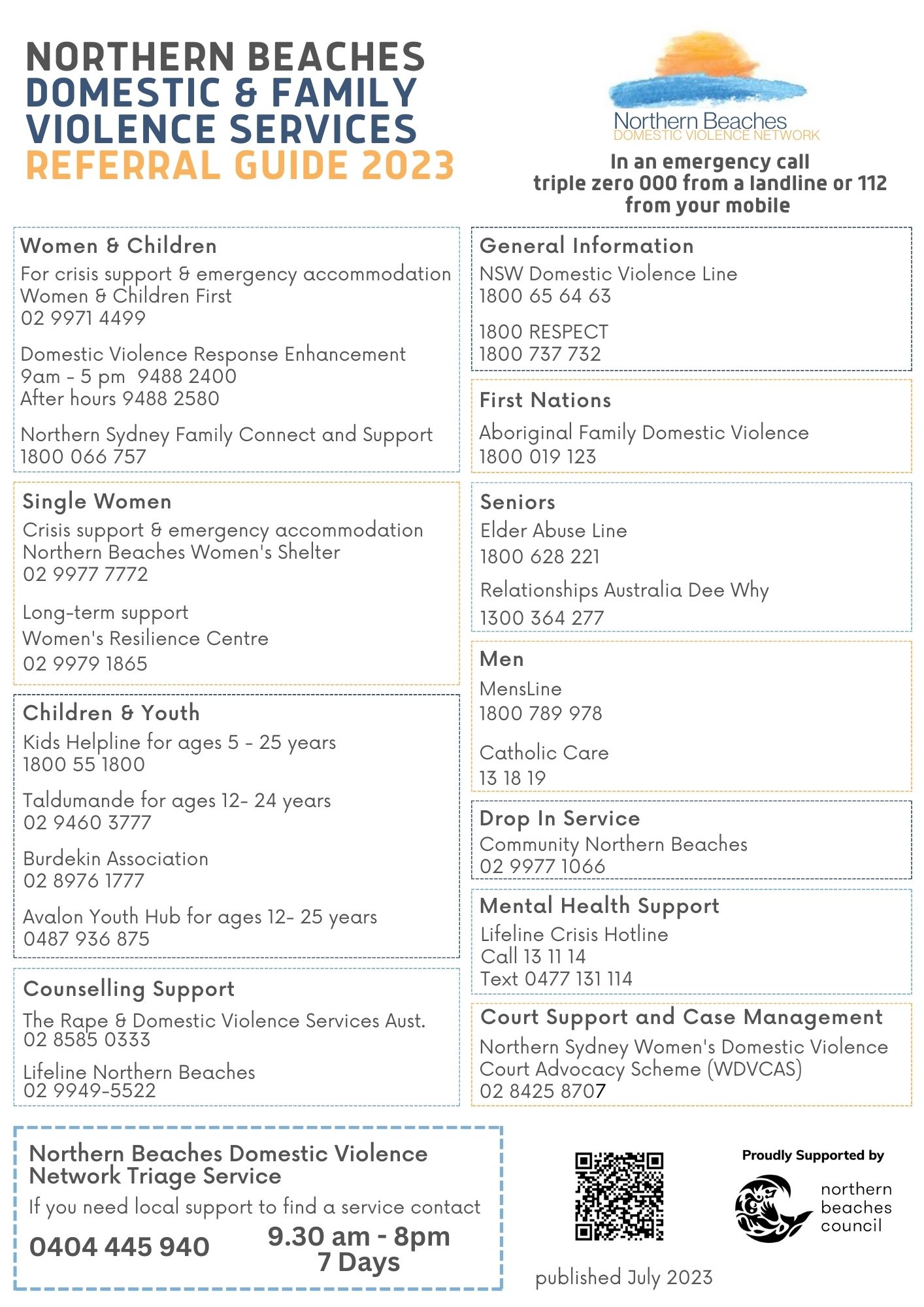 Available Support
Domestic abuse doesn't discriminate between race, gender, sexuality, culture or religion. Anyone can be affected.
These confidential hotlines are available 24hrs:
Northern Beaches Domestic Violence Referral Guide 
In responding to issues relating to children, our Child Safety page suggests many resources offering advice and help. Please call the Kids Helpline (for ages 5-25) on 1800 55 1800 or visit their website. Alternatively, you can call the Child Protection Helpline on 132 111.
For older people who are experiencing abuse, please call the Ageing & Disability Commission helpline (previously known as NSW Elder Abuse Helpline) on 1800 628 221 or visit their website.
For first nations people experiencing abuse, please call the Aboriginal Family Domestic Violence helpline on 1800 628 221.
Call 0404 445 940 to reach the Northern Beaches Domestic Violence Triage service which is coordinated by the Northern Beaches Domestic Violence Network:
This service operates 7 days a week, 9.30am to 8pm
Triage service is a first point of contact to help access appropriate local support
It is not a crisis service however every enquiry will be responded to within 24 hours.
There are a number of local services that support people experiencing domestic abuse. Please follow the links for more information.
Resources
Northern Beaches Domestic Violence Network
Northern Beaches Domestic Violence Network is an interagency which comprises representatives from local domestic violence services, local government, police and other stakeholders. Council has a pivotal role on this network to work in partnership with key services and community groups.
We work collaboratively to raise awareness and seek to use approaches that prevent domestic and family abuse within our local area. For more information please email.