On behalf of everyone on the Northern Beaches, we congratulate our Australia Day Award winners and thank them for the outstanding contributions they have made to the community.
The awards were presented at a ceremony presided over by Northern Beaches Mayor at Dee Why Civic Centre on Thursday 23 January 2020. The ceremony was recorded and is available to watch.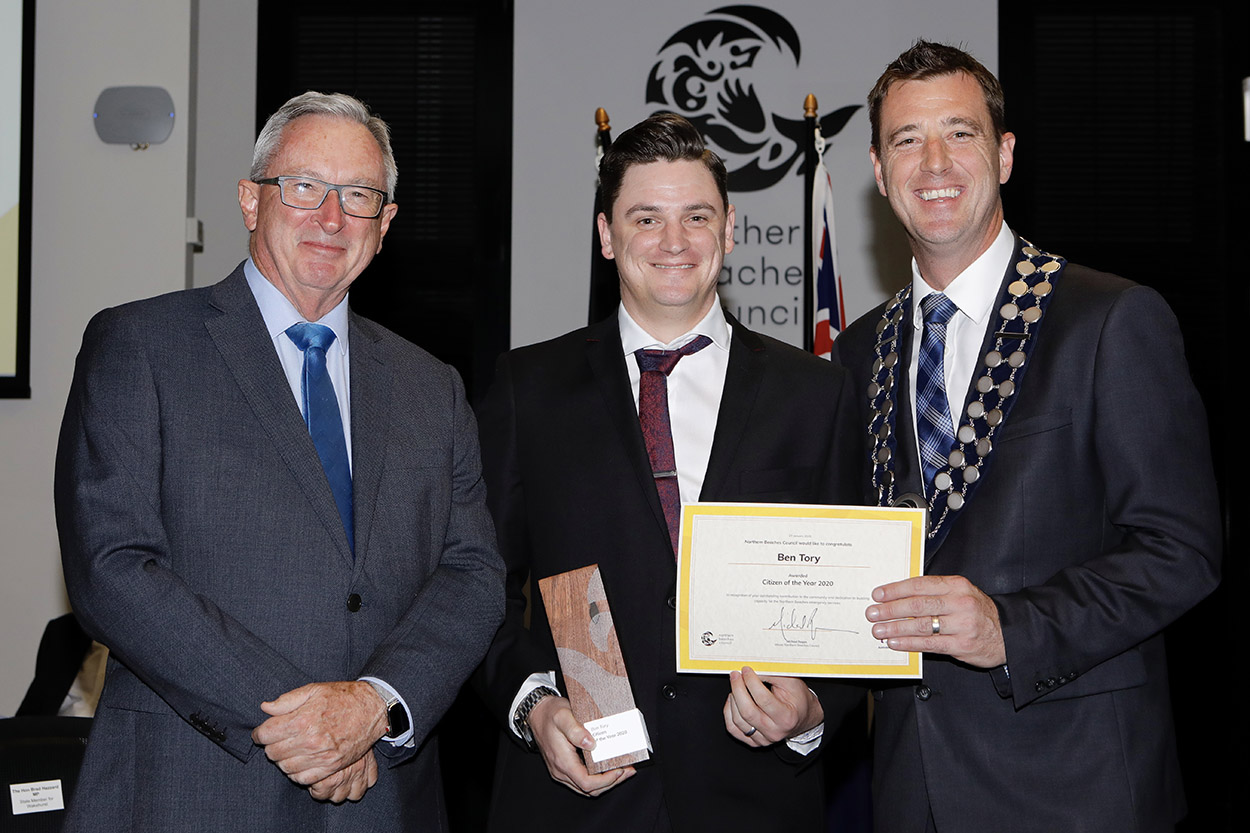 Citizen of the Year
Ben Tory is a committed volunteer, passing on his expertise to a number of different services including St John Ambulance, NSW State Emergency Service, NSW Rural Fire Service, and Team Rubicon Australia. Ben has dedicated his life to helping people when they are most in need, building and supporting teams to reach that goal. Ben spent six years rebuilding and growing St John Northern Beaches Division, before being promoted to higher roles, and has been an active member of the Manly Unit since first stepping in the door at the age of 18. Ben works as an Ambulance Paramedic at Mona Vale station and spends any spare time volunteering for the community.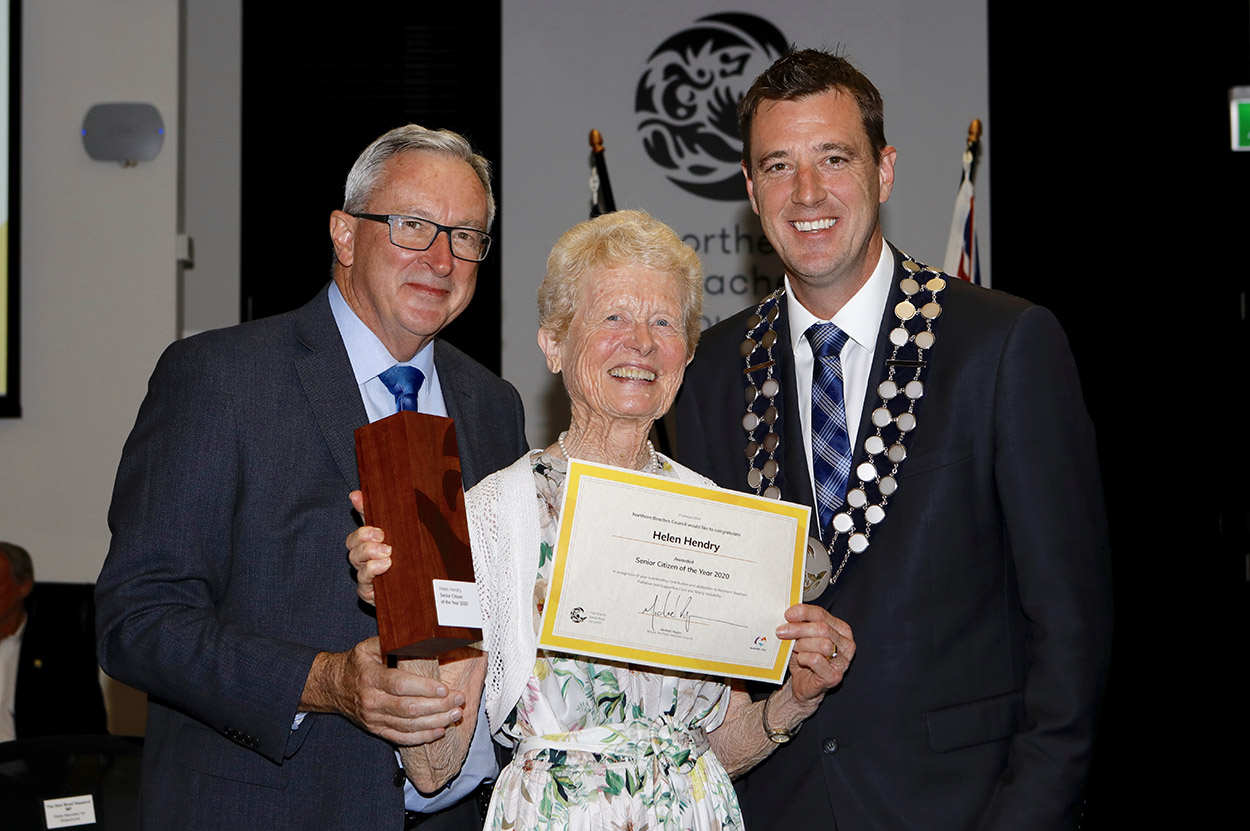 Senior Citizen of the Year
Helen Hendry has been an active member of Northern Beaches Palliative and Supportive Care since 1993. She has offered exemplary support for patients and the bereaved in driving, home visits, participation in regular support groups, catering, planning and accompanying excursions. Helen has eased the end of life journey for many Northern Beaches people and their families. She has been active in fundraising, has instructed volunteer classes, and has volunteered at Royal North Shore and Mona Vale Hospitals. Since 2005, Helen has also volunteered at Manly Sailability where she has taken on various different roles including boat driving, shopping, cooking, registration and bookkeeping. Helen was also on the Royal Far West Remote Reading Scheme, helping children to read remotely from 2011-2012.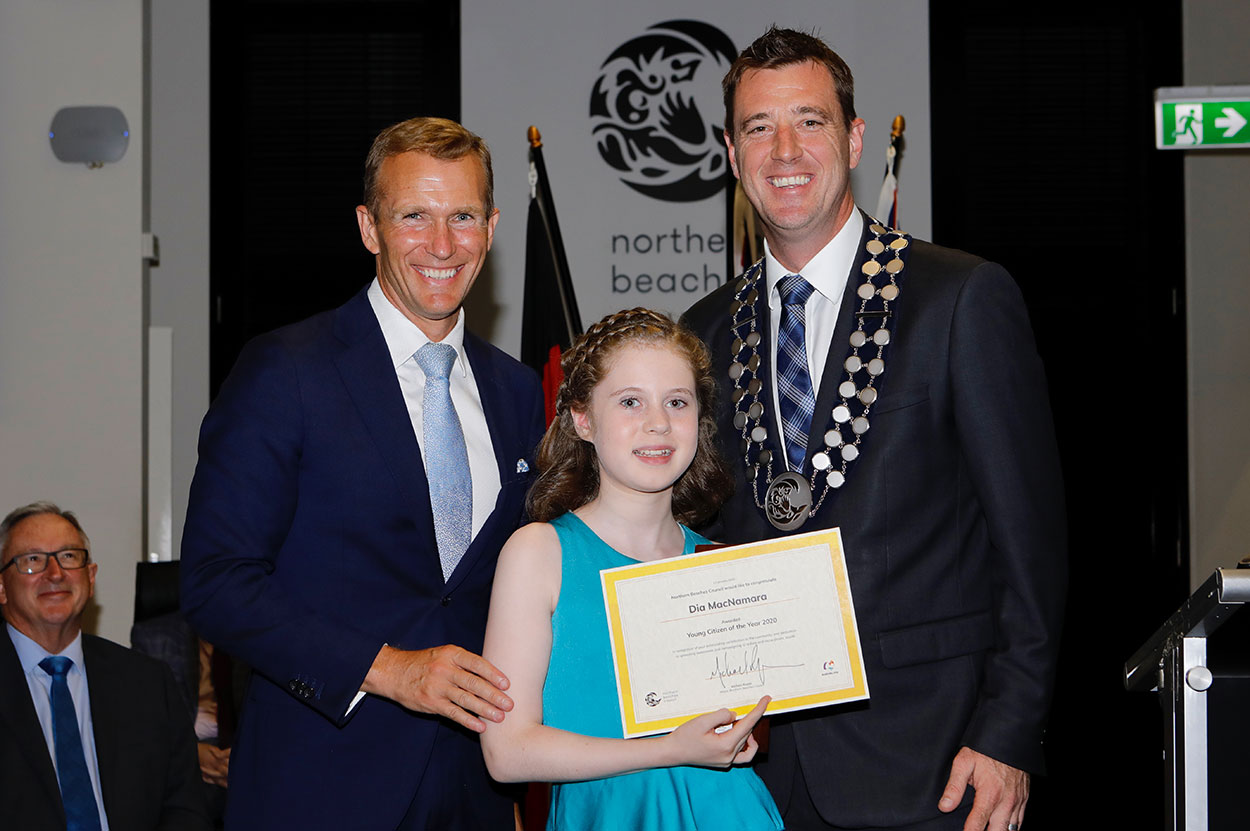 Young Citizen of the Year
At age 11 Dia MacNamara has demonstrated commitment to a broad range of environmental and social issues. Dia is a warrior for the environment, spreading awareness and campaigning to reduce and re-use plastic waste, and inspiring others to make a difference. She established a plastic bottle top collection scheme in her school in 2019 to turn plastic lids into prosthetic limbs for amputees through Envision Hands. Dia involved fellow students, school families and teachers in the project, and then expanded to involve the local community and has set up collection points at local businesses. She also creates artworks from plastic to raise awareness of pollution particularly in the marine environment. Dia regularly packages community donations for people in need, and fundraises for Cancer Research. Dia has grown her hair over the last three years to be cut off and used to create wigs for children with serious illnesses. Dia is always thinking of others and looking for ways to be a helpful member of her community.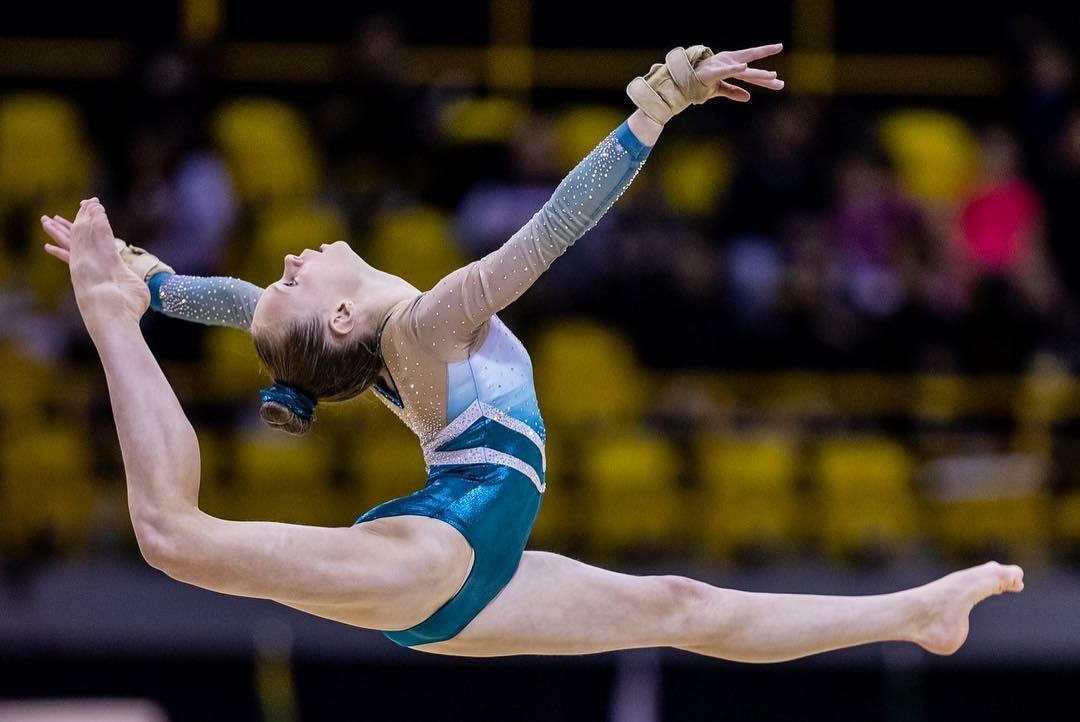 Sportsperson of the Year
Aged just 15, Chloe Trisic has already risen to the highest level of her chosen sport. Chloe competed at the 2019 Australian Classic Gymnastics Championships at Gold Coast placing 1st overall for Junior International; was selected on the Women's Artistic Gymnastics Junior National Australian team in 2019 and represented Australia at Gymnix in Canada in March 2019, placing 6th on the beam. Chloe also represented Australia at the first ever Junior World Gymnastics Championships in Hungary in June 2019. Chloe is an ambassador for junior sport in the region and a role model to more than 150 young gymnasts at Manly Warringah Gymnastics Club.
Community Event of the Year
Arts for Wellness, presented by Community of Calm delivered an extensive calendar of events during Mental Health Month, October 2019 to promote mental health, wellness and trauma-informed practice on the Northern Beaches. Approximately 500 community members participated in low-cost events provided by over 30 local practitioners to assist with stress reduction, relaxation and social connection. Arts for Wellness has shone a light on creative and expressive arts and therapies on the Northern Beaches, and how they can contribute to our emotional, physical and social wellbeing.
Outstanding Community Service
There were 16 deserving community members which received awards in this category
Jack Berne of Wheeler Heights – Founder of 'A Fiver for a Farmer' for drought-affected farmers
Roberta Conroy of Bayview – Pivotal role in Church Point Precinct redevelopment
Phillip Donald of Frenchs Forest - Contribution to the Scouting movement
Jackson Dowling of North Narrabeen - Fundraising for kids with cancer with annual Christmas light display
Rosalynd Gooding of Newport - Leading role in protecting the endangered Littoral Rainforest on Hillside Road, Newport
Samantha King of Brookvale – Helping raise awareness of the diverse needs of young people in transitioning through to adulthood
Dana Lanceman of North Curl Curl - Run director at Curl Curl Parkrun
Rex Langthorne AM of Beacon Hill - Founding member of Special Olympics Australia
Christopher Lew of Belrose - Founder and active member of Northern Beaches Rotaract Club
Louanne Mitchell of Manly - Captain at the Manly Salvation Army for over 11 years
Matt Molinia of Dee Why - Volunteer for Sydney Northern Beaches Surf Lifesaving
Shannon Nevin of Frenchs Forest - Founder of Walk 'n' Talk for Life
Ken and Pam Oxborrow of Bilgola – Committee members of Narrabeen Senior Citizens Club
Graeme Paul of Forestville – Wide-ranging community volunteering
Warren Risbey of Belrose - Founding member of Belrose and Terrey Hills Computer Pals Club.